Some of the places I go when I'm stumped.
Websites:
Sundance Kids
is a local meat goat breeder (Lodi,CA) where we have purchased many of our does. They have a lot of helpful information and are always ready and willing to answer questions by email.
Fias Co Farm
is an online super resource for anything even remotely goat related. They are focused on milk goats instead of meat goats, but it is my number one online resource because they have experienced everything. I mean EVERYTHING. I have yet to search for something and not find it here.
Beekman 1802
is run by Josh & Brent (aka The Fabulous Beekman Boys). They own a farm in New York and focus on selling handmade cheeses and soaps produced by their milk goats. While not as informational as the other two sources, they often have cute pictures, creative recipes and fun stories to share. I'm never bored on their site!
Books:
Storey's Guide to Raising Meat Goats: Managing, Breeding, Marketing
by
Maggie
Sayer
This book is always in my hand. Whenever there is a problem/question/issue, this book solves it. It is very easy to understand and has a great index which makes it easy to search for information quickly. It also contains information about selling and marking , which I found interesting since most other books completely ignore the business side.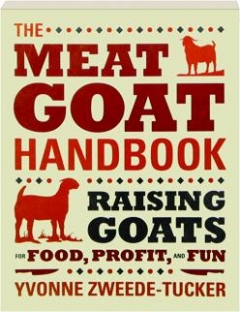 The Meat Goat Handbook: Raising Goats for Food, Profit, and Fun by
Yvonne
Zweede-Tucker.
I love this book because of all the pictures. The author does a great job of introducing and explaining things without getting very technical. Contains recipes for cooking goat meat as well. Overall just a great resource to have, even if it isn't as detailed as "Storey's".